Guardians of the Galaxy (NES)
Posted: April 1st, 2015, 8:48 am
I seemed to do better on this game than I did with Software Creation's Silver Surfer, but then again brawlers are generally easier to begin with. Using Marvel characters in a Double Dragon clone does add to the fun, although its not quite the same team lineup as from the recent movie. The plot is just as you expect, with the band of Robin Hood Freedom Fighters against the evil space empire kind of thing. The evil empire apparently is going through an 80s fashion renaissance. Dig the wanted posters of our heros too. The power ups for Raccoon and Groot are a hoot, but I still prefer Vance Astro with his Captain America shield, and Yondu, since its like a Captain America and Hawkeye grouping that work so well with the Avengers games from the 16 bit era. Its also because I am more familiar with the classic team.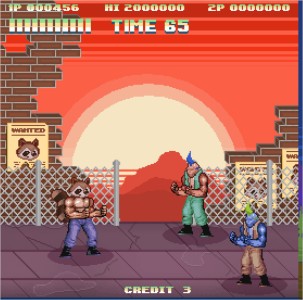 One Guardians focused comic I recall fondly from my youth is a time travelling Vance Astro meeting a younger self. If you don't know the tale, he is a Buck Rogers astronaut in a 1000 year deep sleep going from Earth to Alpha Centauri, but when he arrives finds out technology advanced and man has been on Alpha Centauri for centuries, and his deep sleep was flawed in that he was partially awake during that time as a tortured mind in solitude with lot of issues from that and some some mental powers, but also a body that is still young, but so fragile he has to live in a containment suit like a boy in a bubble, never allowing for physical contact again. Going back in time he wants to avoid his fate...a good time travel quandary for a 1970s Marvel Comic (it as a Marvel Two in One starring the Thing).
@Sut - Did this game make it to the UK? I know that Marvel UK has a long history, but their lines are not identical. Captain Britain has had starring roles in American comics, but probably not his own title. Did the Guardians show up across the pond?