Having played through all three Dark Souls games and Bloodborne more times than I could count, I decided it was time to shell out for FromSoft's newest title, Sekiro: Shadows Die Twice. It immediately feels both familiar to me, as a dedicated Souls fan, and completely different. The basic gameplay is the same as ever: you run through levels that are linear, while still being open enough to allow for different strategies and fighting styles, eliminating minor enemies on your way to a boss. It's got that trademark Souls-like difficulty that will mash you like a potato until you figured out the mechanics and give it a good ol' mashing of your own (does that sound dirty? I feel like it sounds dirty). But at the same time, it's also not just a new Dark Souls game with a Japanese skin thrown on, Sekiro is it's own beast entirely.
There's no stamina gauge this time, which means you can hack, slash, dodge, and dash to your hearts content and never run out of breath. But if you think that'll make the game easier, you're in for a nasty surprise. Enemies will block every attack you throw at them, meaning you either have to wear down their stance (which is KIND OF like stamina, but only applies to blocking...I think?) or parry them. This creates a huge leap in difficulty for me in particular, because I SUCKED at parrying in Dark Souls, and Sekiro's parrying is only slightly more forgiving. Still, learn the timing to parry your enemy's attack and you'll open up a window for an instant kill.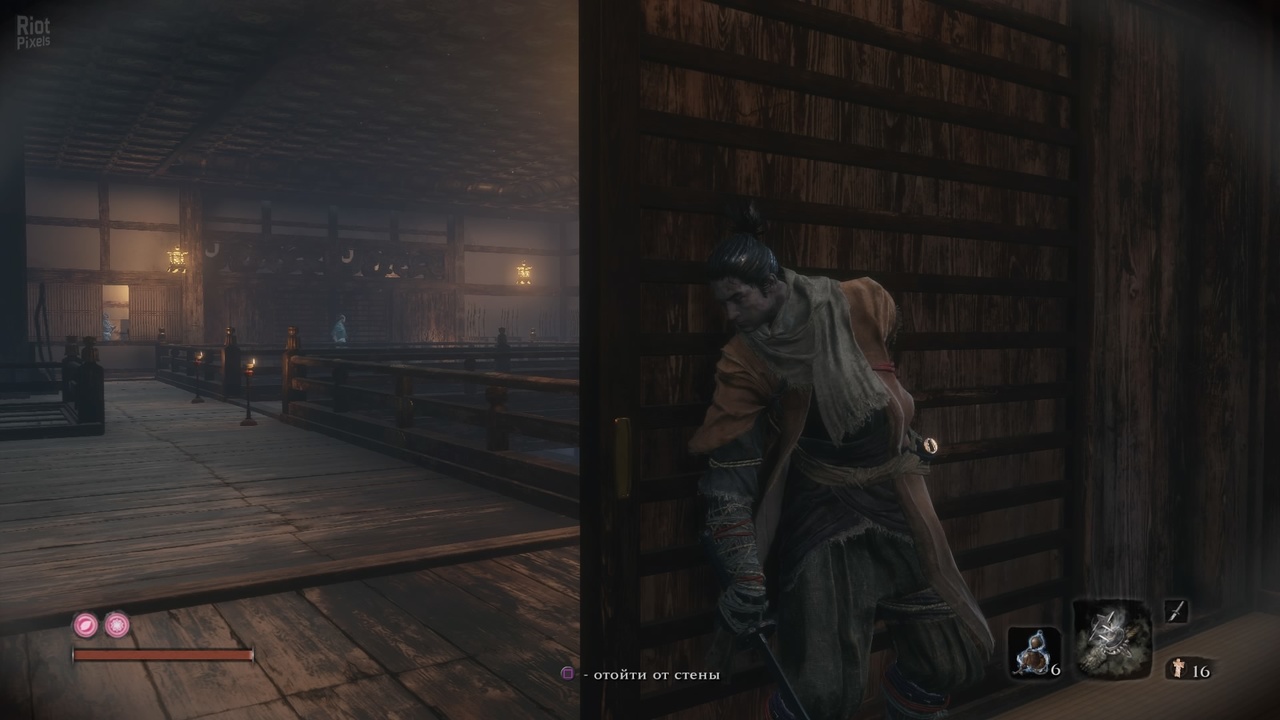 There's also stealth gameplay now. Crouch walk outside of the enemies' line of sight and stab them in the back for an instant kill. Basic, but functional. Your prosthetic arm also functions as a grappling hook, making nearby rooftops the perfect place to scope out the perfect plan of action. Your arm can also be loaded with a number of other little tricks, like a flamethrower, shuriken launcher, and shield-shattering axe, all of which are useful for taking down certain enemies.
Frankly, I'm finding Sekiro kind of frustrating. Keep in mind, though, that does
NOT
mean it's a bad game. I
AM
having fun with it. I found the Souls games frustrating too until I figured out the mechanics, and now they're some of my all time favorite games. That said, I'm not enjoying it as much as I did Dark Souls. It's partially because I prefer Dark Souls' slower, more calculated combat to Sekiro's fast paced one. This is probably the closest FromSoft will ever come to making a twitch-game. I also miss the majestic, decrepit post-apocalyptic medieval setting that can practically tell you stories just by walking through them. Sekiro's levels aren't bad by any means, but I haven't come across an environment yet that made me stop and stare at it.
I'm only getting started with this game. Learning how to parry is definitely the biggest obstacle in my path right now. Maybe I'll learn, and Sekiro will become another of my favorite games. Or maybe I'll never get the hang of it and decide this is one adventure I'd rather sit out on. Reserving final judgement for later!
Anticipation Rating: 9/10
First Impressions: 5/10
Desire to keep playing: 8/10