After the recent C64 review of Archon - and the realization that a NES version exists - I sort of fell down the rabbit hole, looking for more classic PC games from my youth that I could play on consoles I currently own.
Imagine my surprise when I discovered that BallBlazer had a NES version -
but only in Japan!
Thankfully, it's dirt cheap, and after springing $10 for the cartridge and $12 for a Famicom-to-NES adapter, I was in business, and able to try the Nintendo version of this Atari classic for myself.
BallBalzer (Famicom / NES)
In short, it's BallBlazer! Despite being released only in Japan, every bit of text in the game is in English. On starting it up, you're greeted by the LucasFilm Games logo, then treated to a little overheard / isometric view of two droids playing the game, while "The Song of the Grid" rips in the background. Nice introduction!
By default, the game is set to two-player versus mode. Not knowing this, I jumped right in and started playing, but it gave me a quick practice round to get a feel for how the Nintendo version looks and plays. In short, it's great! The game moves smoothly, and the ball and droid graphics are sharp, colorful, and clean, and scroll along nicely as the action picks up.
Picking up the ball, shooting it, and stealing it from the other droid works just as well as in any other version. Honestly, it controls perfectly with the NES controller, and I can't for the life of me figure out why Activision decided not to publish this game in the US. It has a copyright date of 1987. I'm not sure if it was actually released in Japan that year, but if so, I can't imagine many other two-player NES games from that early era that would have given me the same sort of rush that BallBlazer does today.
Also, the droid difficulty is pretty well-balanced. I slaughtered the "Level 1" droid, but at levels 3 and 4, it was neck-and-neck. I believe the difficulty goes to Level 6. Should make for a great challenge.
Highly recommended for solo or two-player gaming, especially given its cheap price!
The LucasFilm fan in me then wondered if Rescue on Fractalus ever made it to the NES. Unfortunately, it did not... but what I found in my searching turned out to be even better.
Fractalus 1.0.0 (Linux / Mac / PC / VR)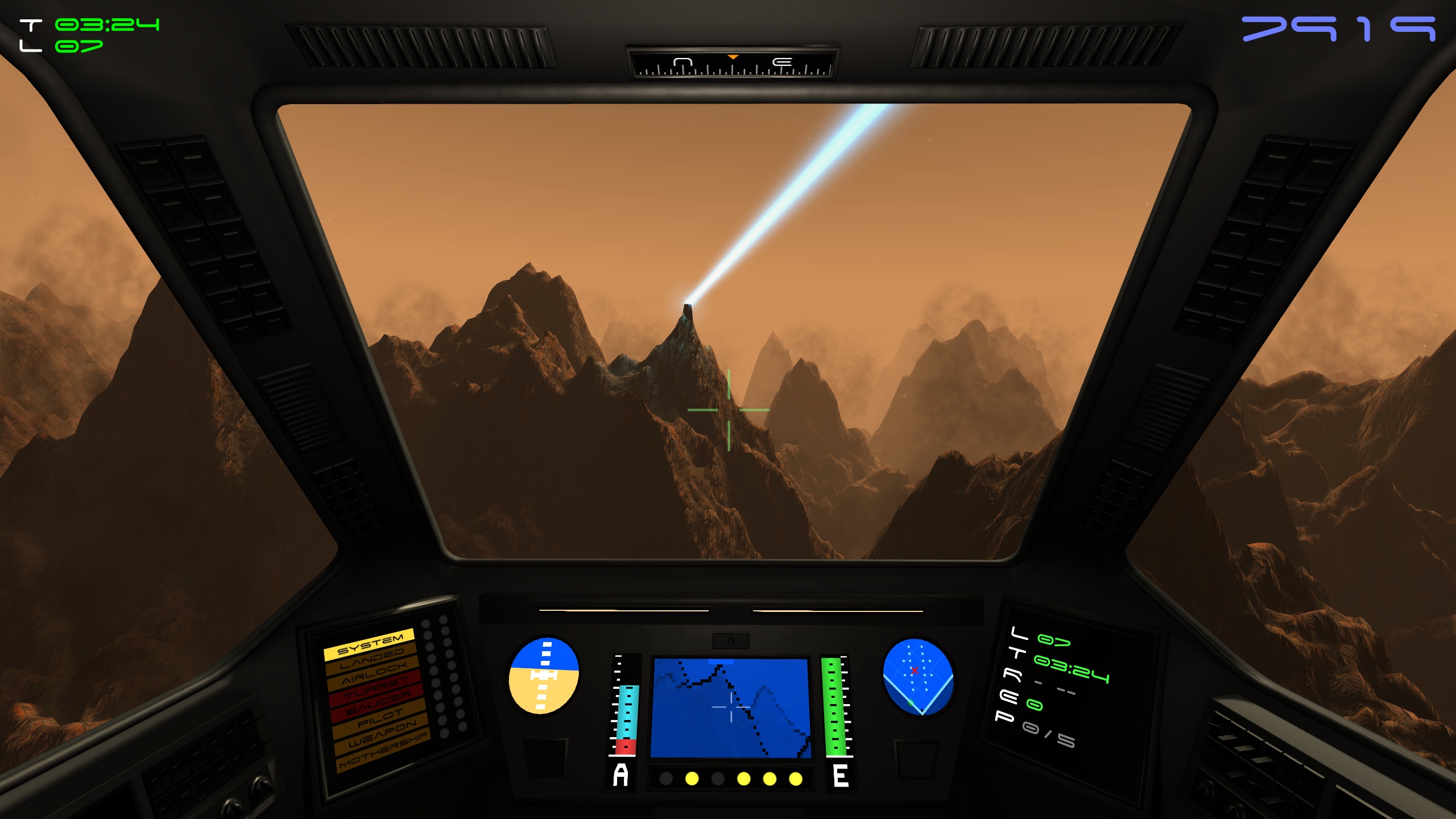 Turns out, a remake of sorts has been in development by a single person for the last decade or so. It's free to download from the project website, so I decided to give it a whirl on my eight-year-old Mac Mini.
Holy guacamole!!
What a faithful remake! Nothing too fancy, no added frills, just a modern version of the classic Fractalus title. It even starts up with the same theme song and in the same manner, as your ship launches from the mothership down to the planet below. From there, you know the drill - blast the turrets, find the crashed ships, and rescue the pilots that, hopefully, aren't aliens in disguise.
Controls are simple and all keyboard-based, and the game runs very well on my aging computer at fullscreen resolution and medium graphic settings. The planet looks nice, and also has day-night cycles. Your ship's radar retains the classic Fractalus look and feel, which is such a nice touch.
I could play this game all day! It's a shame the rights to this practically ensure it will never see a console release, but I think it would be right at home on the eShop or PlayStation Store as a $5 - $10 download.
If you'd like to try it for yourself:
https://www.lsdwa.com/projects/fractalus/