I Can Remember
Created: 1990 by Game Tek
License: Fisher-Price
Cost: About $7 for a loose cart
Rating: Pre ESRB, Educational game recommended for ages 3-8
Dave's site would not be complete with a review of this seminal NES game. Created by Game Tek, the same company that brought us Jeopardy for the NES, the game really shows the quality of games coming from Miami Beach, the silicon capital of Dade/Broward counties.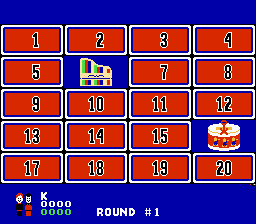 Many of the 8 bit computers tried to bring families entertainment, education, and sometimes even business applications. You can have a bit of fun looking back on those early educational titles, as they are so primitive they have some charm. By 1990, its a different world. Graphics are much better, but educational titles are few and far between all the platformers or role playing games.
Concentration is one of those simple games best played with cheap cardboard cutout pictures. Somethings just should not be video games, like darts or pool or, given this title, concentration. This NES title is best defined as crude. Its crude in graphics, crude in music, crude in gameplay. Seriously, it took me awhile to figure out one of the toys above is not a histogram, but a toy piano. It shows the Nintendo Seal of Quality has a very specific use of the word 'Quality'.
The game pits you (or your inner child) against
Electro
in a game of concentration. For Spiderman fans, this version of Electro is just as smart of the comic book character who is not running on all 12 volts. (Not really, the computer is just called Electro, but Marvel villains in educational titles should be a thing. Doctor Doom teaches dental hygiene or something) The idea is to match crude images of Fisher Price toys of decades leading up to 1990, to reveal a picture of another toy. Its concentration played on top of a 50 piece puzzle. There are 3 levels of play, all pretty easy, where the most difficult thing is getting through a midi version of 2 bars of Mary Had A Little Lamb repeat ad nauseum. Kids of 1990 may have enjoyed it briefly, but sadly, this is one retro title whose case could be better reused for a modern NES homebrew.