I can't remember the last time a game has left me this confused. Not because the game is hard to play, it's actually pretty easy to get your head around. More in a
"why does this game exist?"
sort of way. I know LOTR is a huge moneymaking franchise, but who asked for this? No, really: who got it in their heads that this combination of...stuff...would come together to create a good and memorable gaming experience?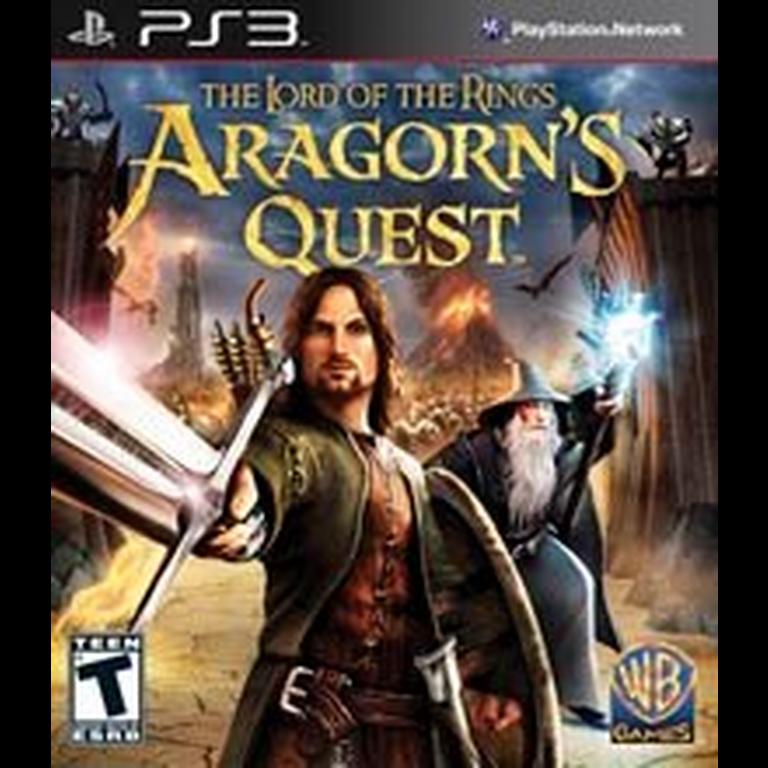 Aragorn's Quest is a game that lets you relive the LOTR story entirely from Aragorn's point of view...which means only being there for about half of it. Its art style balances (poorly) between realistic and cartoony, with Aragorn looking more or less like a real person while Gimli looks like a freaking caricature of himself! Stairs cause people to hover in midair, while their feet vanish into the ground during cutscenes.
The game plays like the world's most incompetent Legend of Zelda. Pressing the "guard" button will lock onto the enemy closest to you, and moving the left stick while holding it down will let you swing your sword in different directions. Not much point when your enemies go down with a few measly swings, but certain barriers can only be broken with a downward swing. That means you have to hold down the block button to perform it, but the camera will immediately lock onto any enemy without a hundred freaking miles of you when you do that, meaning you can't face whatever it is you're trying to break down! Secondary weapons, like the torch, take the place of your shield but can only be used by pressing the left thumbstick in,
WHICH I ALWAYS FREAKING HATE.
That's the only way to defeat the Ringwraiths on Weathertop, and to make things worse it looks like Aragorn is just giving them a light tap.
And finally, why the
[expletive]
does the right stick not move the camera? Why can I not move the camera
AT ALL?!
Why, in these days when twin thumbsticks have been a staple for over twenty years, are developers still having this problem? The stupidest part is that the developers obviously knew we were going to need to rotate the camera, but instead of giving us the ability to do so ourselves they constantly make a "Press X To See Path" prompt pop up which snaps the camera toward where you're supposed to be going, along with a glowing trail for you to follow. Why? How is that easier or simpler than just letting the freaking players control the freaking camera with the right freaking thumbstick you
[expletive expletive expletive]
Even the menus are ridiculously difficult to get around in. You can't just move around with the arrow keys or the thumbstick, nooOOOoo. You have to use the RIGHT stick to move the world's most inaccurate mouse cursor around to choose anything! There are multiple "tabs" on the pause screen to choose from, but for some reason once you open one, sometimes pressing the X button will inexplicably send you back to the tab you were on before! What were these people trying to accomplish with this mess? Or perhaps more accurately, what the hell were they smoking when they made it?
Lord of the Rings: Aragorn's Quest is a big pile of bad design choices and bizarre strangeness, creating one of the biggest, most inexplicable messes I've ever seen. I wouldn't even recommend this to diehard LOTR fans.