Not having a computer that can play the first Witcher game, and having read the first book in the series the games are based on, I decided to take a leap of faith and start with the second game. And let me tell you, any game that starts with you waking up next to a gorgeous, naked redhead can only have good things in store!
Hopefully...
You play as Geralt, a magically mutated mauler of malicious monsters...who's called a witcher despite having absolutely nothing to do with witches. He carries two swords, one of steel (for men) and one of silver (for monsters), and you switch between them with the directional buttons. Interesting mechanic, good for immersion, though I'm not sure why having a silver blade shoved through your chest would do less damage to a normal human being than a steel one.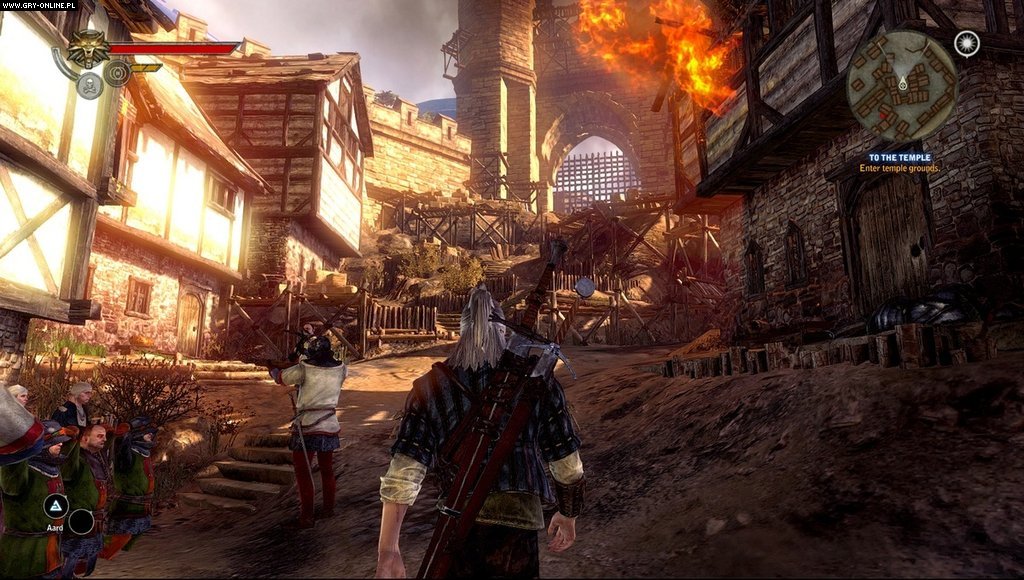 Right off the bat, The Witcher 2 feels unique due to its combat. Geralt may have been magically enhanced to the point of becoming a Medieval X-Man, but he's far from invincible. He can slash and dodge like a master, but if he gets outnumbered he'll still go down in a small handful of hits. Preparation before a fight is key. You can collect herbs to concoct different potions, which he can either drink or apply to his sword. Some potions might boost his health, or his magic, or they might make him deal more damage to certain types of foes. Even then, you have to think tactically about your fight. If you get surrounded, you're dead. Your best bet is to try and separate your foes, taking them out one by one, and retreating when their comrades show up. It's challenging, and not going to appeal to everyone. Still, it makes you feel more like a real monster hunter, preparing beforehand and setting up traps, than just rushing in and chopping your enemies to pieces would be.
Being based on a series of books, the story is naturally very well told. Maybe a little
too
well told. If you get bored watching cutscenes and choosing dialogue options, you're not going to enjoy this game. The game starts with Geralt being roped in on an idiot king's crusade to reclaim his bastard children. When a second witcher appears and assassinates the king, Geralt is blamed and has to evade capture so he can find the real killer and clear his name. The dialogue is great, the characters are all fleshed out and fun to talk to, and the choices you can make have a surprising amount of impact on the story. No matter what option you choose, it always sounds completely natural coming out of Geralt's mouth, like it was the choice he would have made even without your input. But, again, the cutscenes do tend to go on for a long time. The story makes it worth it, but if you're only in it for the gameplay, then skip this game.
I'm only a few hours in, but the story has me hooked. Figuring out the combat was a little frustrating at first, but I got the hang of it and started to enjoy it. Might write a full review for the RPG Crew once I finish it.
First Impressions: 7/10Story: 9/10Desire to keep playing: 10/10